Connect to a Bluetooth-enabled Field Gauge with the FieldLab Mobile App
1. Power-on the Field Gauge

As soon as you power on your Field Gauge, it will begin advertising its availability to connect to your FieldLab Mobile App.

2. In the FieldLab Mobile App on your mobile device, Select the Scan Button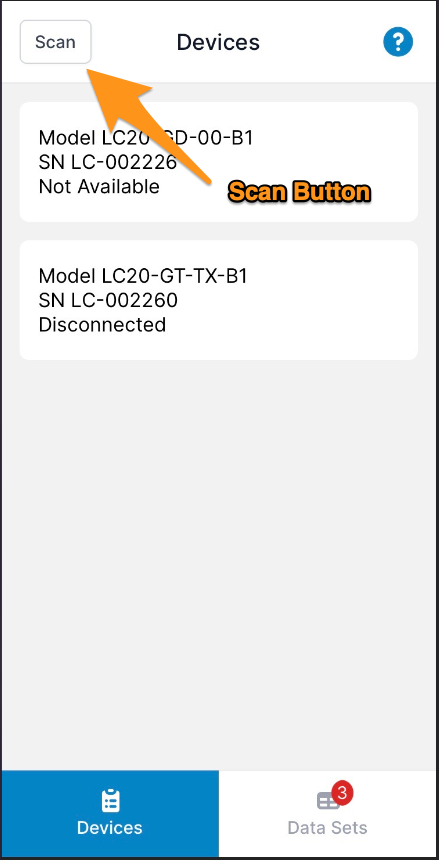 3. Watch the Devices screen for the Field Gauge to appear.

4. Select the Connect button to start communicating with the Field Gauge.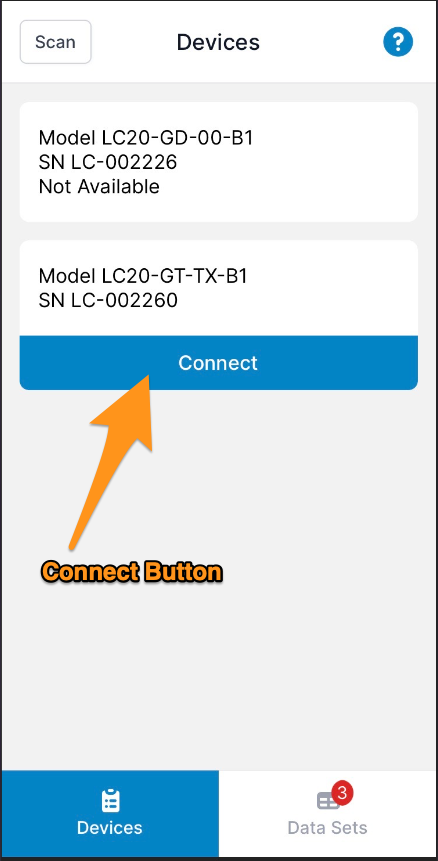 Related article:

Related Articles

Get started with FieldLab Mobile

Check compatibility of your mobile device FieldLab Mobile runs on: iOS versions 11.0 and newer. Android versions 9 and newer. Power on your Field Gauge FieldLab Mobile works with any Bluetooth enabled Ralston Field Gauge. Download FieldLab Mobile ...

Get FieldLab Mobile for the iPhone and iPad

Connect to and control your Ralston LC20 Field Gauges with Bluetooth, log and harvest your test data, and share logged data with your organization or client. Download on the App store

Leave Bluetooth range while connected gauges are logging

The FieldLab Mobile app allows you to remote control logging on Bluetooth-enabled Ralston Gauges, monitor live readings, and harvest test data while within Bluetooth range, which is around 328 feet (100 meters) max. If you take your mobile device ...

A Gauge is Overpressurized

Before applying pressure to your Ralston gauge, confirm that the gauge is rated for higher than the max pressure that will be applied. Gauges that have been overpressured above 33% of max rating will be unable to display or log accurate pressure ...

Change Logging Interval

1. Select the Interval Settings Icon in the Logging Interval field. Note: Logging Interval Settings cannot be changed while logging. 2. Select the drop-down menu to choose your new Logging Interval. Note that longer intervals will give you more time ...
Recent Articles

Connect one or more Ralston gauges to FieldLab Desktop App with Bluetooth

What you will need: One or more Bluetooth-enabled Ralston Gauge. How to tell if your Field Gauge has Bluetooth. The FieldLab Desktop app installed on your Windows computer. Version 1.40.4 or later. Update FieldLab Desktop to the Latest Version. 1. ...

A Gauge is Overpressurized

Before applying pressure to your Ralston gauge, confirm that the gauge is rated for higher than the max pressure that will be applied. Gauges that have been overpressured above 33% of max rating will be unable to display or log accurate pressure ...

Determine the max pressure for your Ralston gauge.

Before applying pressure to your Ralston gauge, confirm that the gauge is rated for higher than the max pressure that will be applied. Gauges that have been overpressured above 33% of max rating will be unable to display or log accurate pressure ...

Connect the correct thermal probe to your Field Gauge

Detachable thermal probes are not interchangeable with other Field Gauges. Each temperature probe is calibrated precisely to the Field Gauge it ships with at Ralston Instruments' ISO/IEC 17025:2017 Accredited lab. To log temperature data to the ...

Troubleshooting Bluetooth Connections for Process Meter LC30

Link to article: Troubleshooting Bluetooth Connections for Field Gauge LC20 and Process Meter LC30